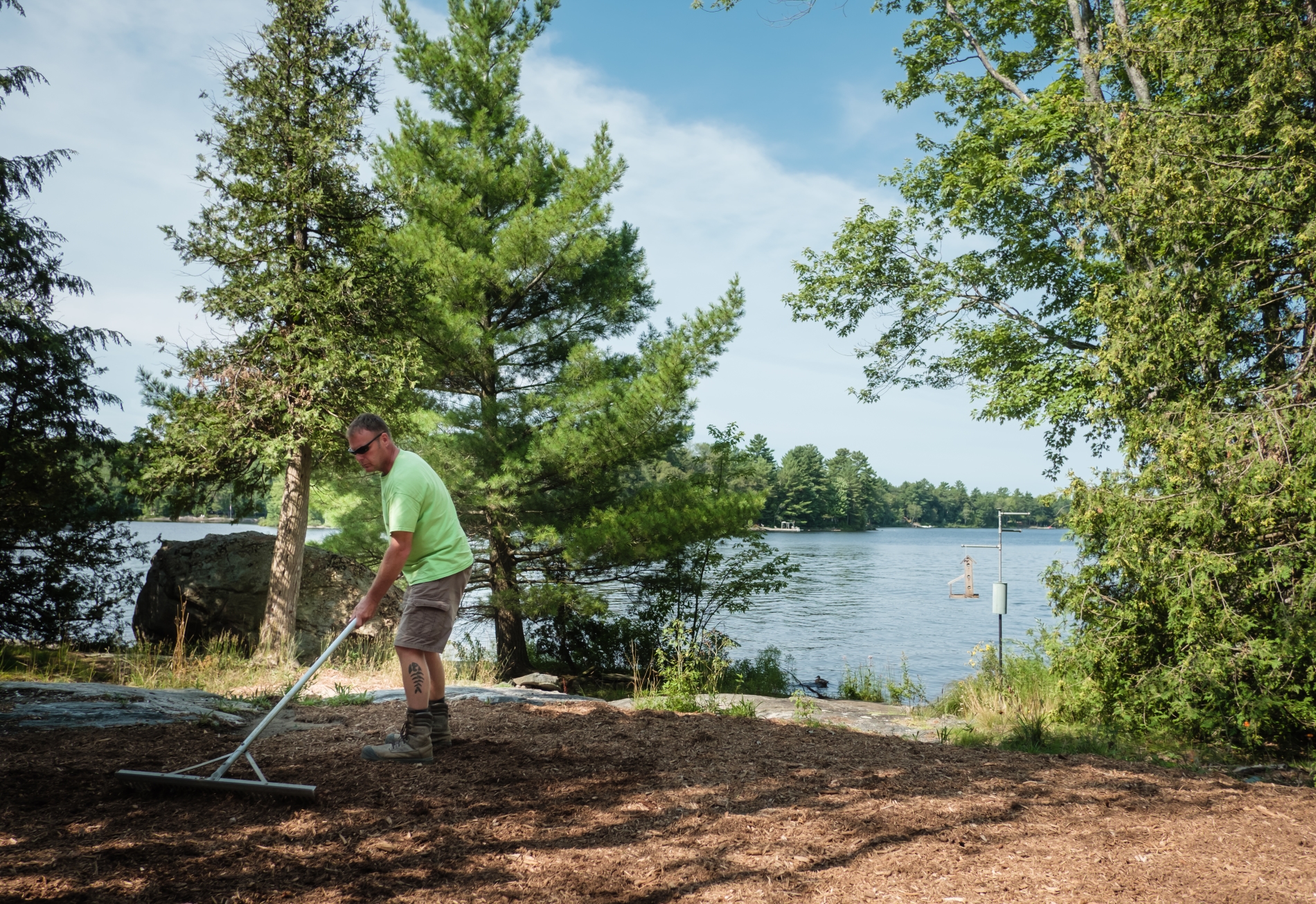 Municipal Class Environmental Assessment Study - Bala Falls Bridge Improvements
Bala Falls Bridge Improvements
Municipal Class Environmental Assessment Study
Notice of Online Public Engagement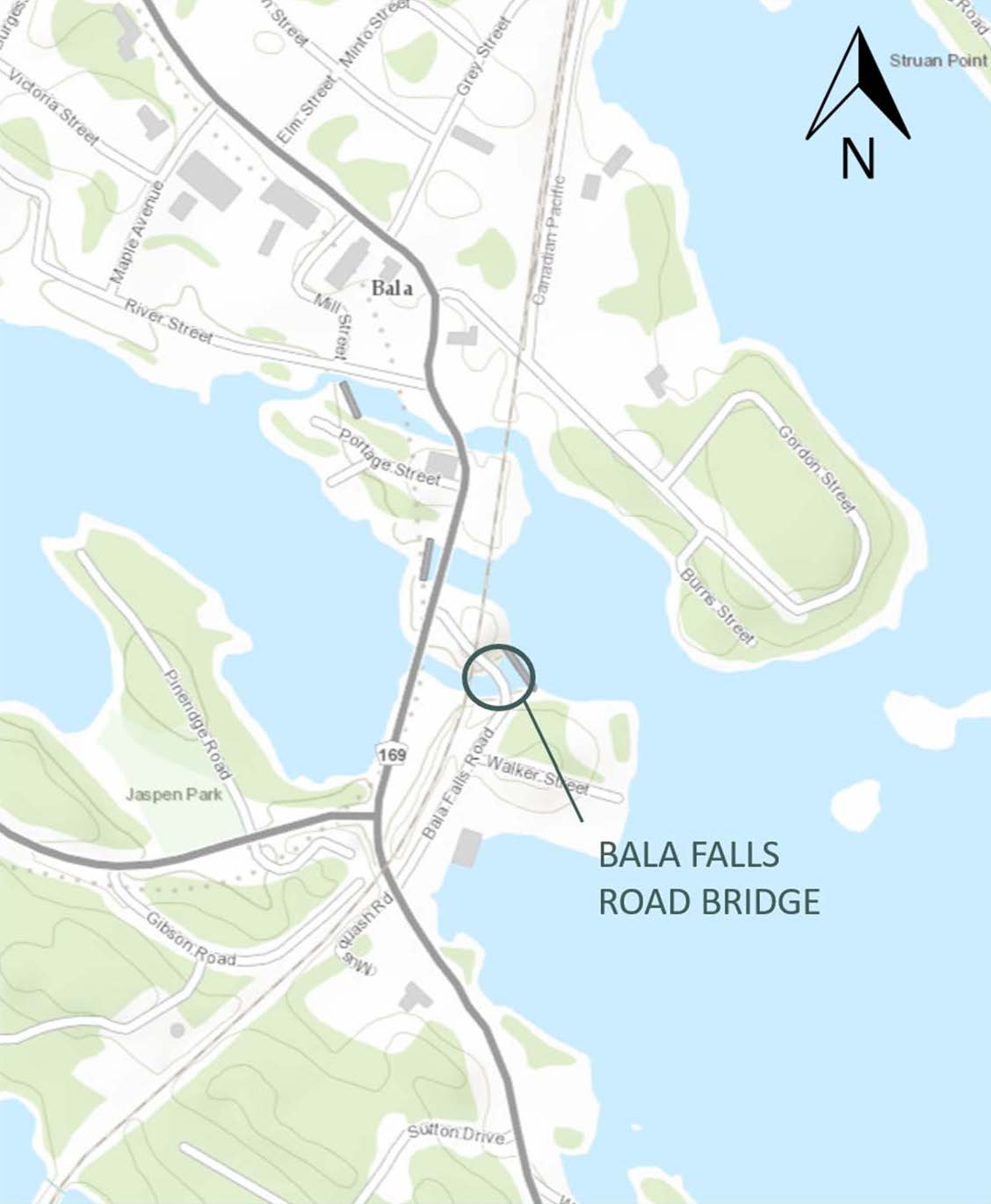 Background
The Township of Muskoka Lakes is commencing an environmental assessment under the Environmental Assessment Act to identify the preferred method of improvement for the Bala Falls Road Bridge. The Bala Falls Road Bridge crosses the south channel of the outlet from Lake Muskoka into the Moon River in the Village of Bala. The bridge is in fair to poor condition, with inadequate roadside safety measures, a posted load capacity restriction, concrete deterioration, and erosion at the base of the piers.
Study Process
The Township is proceeding with a Schedule B Municipal Class Environmental Assessment (EA) to consider and address the impacts associated with the proposed improvements.
Online public engagement is being offered on the Engage Muskoka Lakes website.
On the Engage page, interested members of the public have an opportunity to view a presentation describing the study, ask questions of the project team and provide comments on the project and the improvement options. Alternatively, if you are unable to view the presentation or do not have access to the Township of Muskoka Lakes website, you may request a hard copy of the presentation and comment card via the project contacts identified below. Please submit your comments by Friday, November 27, 2020.
Following completion of the public engagement and in consideration of concerns that may be raised through agency reviews and public comment, the preferred solution will be identified to advance to design.
Alternative Solutions
Alternative solutions have been identified as feasible alternative ways of solving the identified problem (deficiency). From these a preferred solution can be selected. The alternative solutions are as follows:
Do Nothing
Remove Bridge
Rehabilitate Existing Bridge
Replace Bridge
Please note that these are the alternative solutions only. Upon receipt of agency and public comments, the alternatives will be further evaluated, and a preferred solution will be recommended for Township review and council endorsement. Following this, the project file report will be available for public review and comment. A separate notice pertaining to this will be issued at that time.
Project Contacts
Tatham Engineering Limited
115 Sandford Fleming Dr. #200
Collingwood, ON L9Y 5A6
Emma Wilkinson, H.B.A., B.E.Sc., P.Eng
Project Manager
ewilkinson@tathameng.com
(705) 645-7756 x2101
Township of Muskoka Lakes
P.O. Box 129, 1 Bailey Street
Port Carling, ON P0B 1J0
Tim Sopkowe, C.E.T.
Public Works Technician
Tel: 705-765-3156 ext 251
tsopkowe@muskokalakes.ca
Attachments
Notice of Online Public Engagement - Municipal Class Environmental Assessment Study - Bala Falls Bridge Improvements