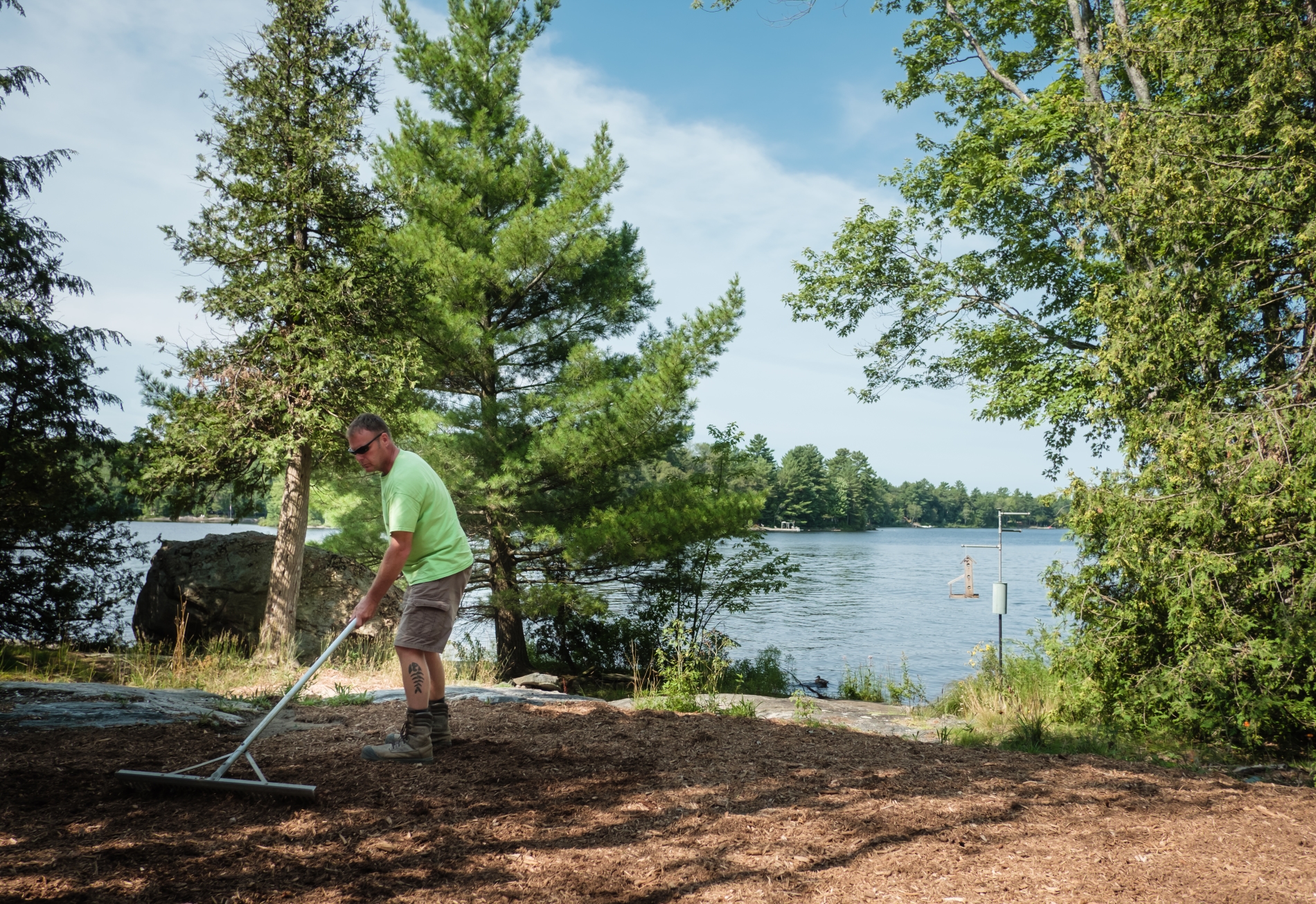 Fall 2021 Huckleberry Rock Lookout Trail Access

Access for local traffic and visitors to Huckleberry Rock Lookout Trail will be provided from Hwy118 West via Beaumaris Road or Butter & Egg Road and Milford Bay Road.

View Map

Reason: Milford Bay Road Bridge Closure
Signage: Signage is available directing to the detour.
Parking: Available at Trail entrance, Milford Manor Golf Course and Baycliffe Park. Limited on street parking available where not prohibited.
Washrooms: Available at Baycliffe Park and Milford Manor Golf Course.
Garbage: Please bring out what you bring in!
Trails in Muskoka Lakes
Muskoka Lakes Trails Information
Huckleberry Rock Lookout Trail
Huckleberry Rock has been well known locally for over 100 years as a magnificent scenic lookout. Rocks on this trail are some of the oldest in the world, well over a billion years old. The effects of glaciation, timber harvesting, erosion and fire have removed the thin mantle of soil, exposing the surface of the pink granite rock.
Address: 1057 Milford Bay Rd, Bracebridge, ON
Details:
Walker's Point Lookout Trail
The new lookout trail, known locally as Berry Mountain, was a long time hidden gem of Muskoka Lakes. Walker's Point Lookout is well known locally for its wonderful view of Lake Muskoka. This short 1km trail offers the best of Muskoka Lakes, highlighting rocks, trees and a great view of the water.
Address: Walker's Point Road, Walker's Point, ON
Details:
Hazelwood Trail
The historic Hazelwood Trail once linked Port Carling to Port Sandfield. The trail is named after the Hazelwoods, a pioneer family who settled on Lake Rosseau. The Hazelwoods took this trail to Port Carling. The trail includes some moderate to steep climbs through mature hardwood forest. Towards the end of the route, the trail runs beside a large beaver pond, well known for its bird life!
Address: Hazelwood Road, Port Carling, ON
Details:
Skeleton Lake Fish Hatchery Trail
The trail winds past the hatchery ponds, which have now been naturalized and along the river, which flows from Skeleton Lake. The trail passes by several habitats: meadows, deciduous forests, flood plain forests, river shorelines and wetlands. Skeleton Lake Trail also includes views of small waterfalls and rapids.
Address: Fish Hatchery Road, Utterson, ON
Details:
Raymond Trail
The Raymond Trail follows the historic colonization route from the old Parry Sound Road to Skeleton Lake. The trail, with moderate hills, passes through field and forest. In places, you can still see the logs of the corduroy road, laid down to help settlers over the boggy sections.
Address: Skeleton Lake Road 1, Raymond, ON
Details:
2km/4km roundtrip
Moderate
Port Carling Mural Walk
Water surrounds you on this trek through the picturesque town of Port Carling situated at the "hub of the lakes". This urban route offers many creative ways to enjoy a walk. Stop and view the Port Carling Mural as "The Wall Looks Back". If shopping suits your fancy visit the many shops all along the way. Enjoy!
Address: Bailey Street, Port Carling, ON
Details:
2.5km
Easy
Public Washrooms
Bala Historic Walk
The Town of Bala consists of three islands interconnected by bridges over beautiful waterfalls. There is a spectacular view of the Moon River and the falls on this walk. These falls, the South Falls run with water from Lake Muskoka, Rosseau and Joseph funneling through Bala enroute to Georgian Bay. You can also enjoy a visit to the Lucy Maud Montgomery Museum. This is just a taste of the many historical sites that are along this self-guided walk of historic Bala. Come and enjoy the walk and a bit of Bala hospitality.
Address: 3070 Muskoka Road 169, Bala, ON
Details:
4.5km
Easy
Public Washrooms
Weir Lake Trail
There are several steep ups and downs along this 3.6km trail which leads you through hardwood forest, over creeks, and pass remnants of the first telephone line in the area.
Address: Highway 141, Bent River, ON
Details:
Provincial Parks in Muskoka Lakes
Hardy Lake Provincial Park
Hardy Lake Provincial Park Trails provide hiking access to the shores of Hardy Lake. Characteristic of the lake-studded Precambrian rock landscapes of the Muskoka region, Hardy Lake has a picturesque rugged shoreline.
Address: Muskoka Road 169, Torrance, ON
Details:
3km and 8km
Moderate to Difficult
Public Washrooms
Torrance Barrens Conservation Reserve
Encompassing 1,990 hectares (5,000 acres), the Torrance Barrens Conservation Reserve is one of the most striking geological areas in Muskoka. The lunar landscape of the Torrance Barrens is characterized by low ridges of Precambrian bedrock, separated by wetland and peat-filled hollows. The Barrens is also an ideal place to view the night skies.
Address: Southwood Road, Torrance, ON
Details:
3km, 5km & 6km
Difficult
Public Washrooms
Trail Blaze Signs
Signs are marked in white for visibility.