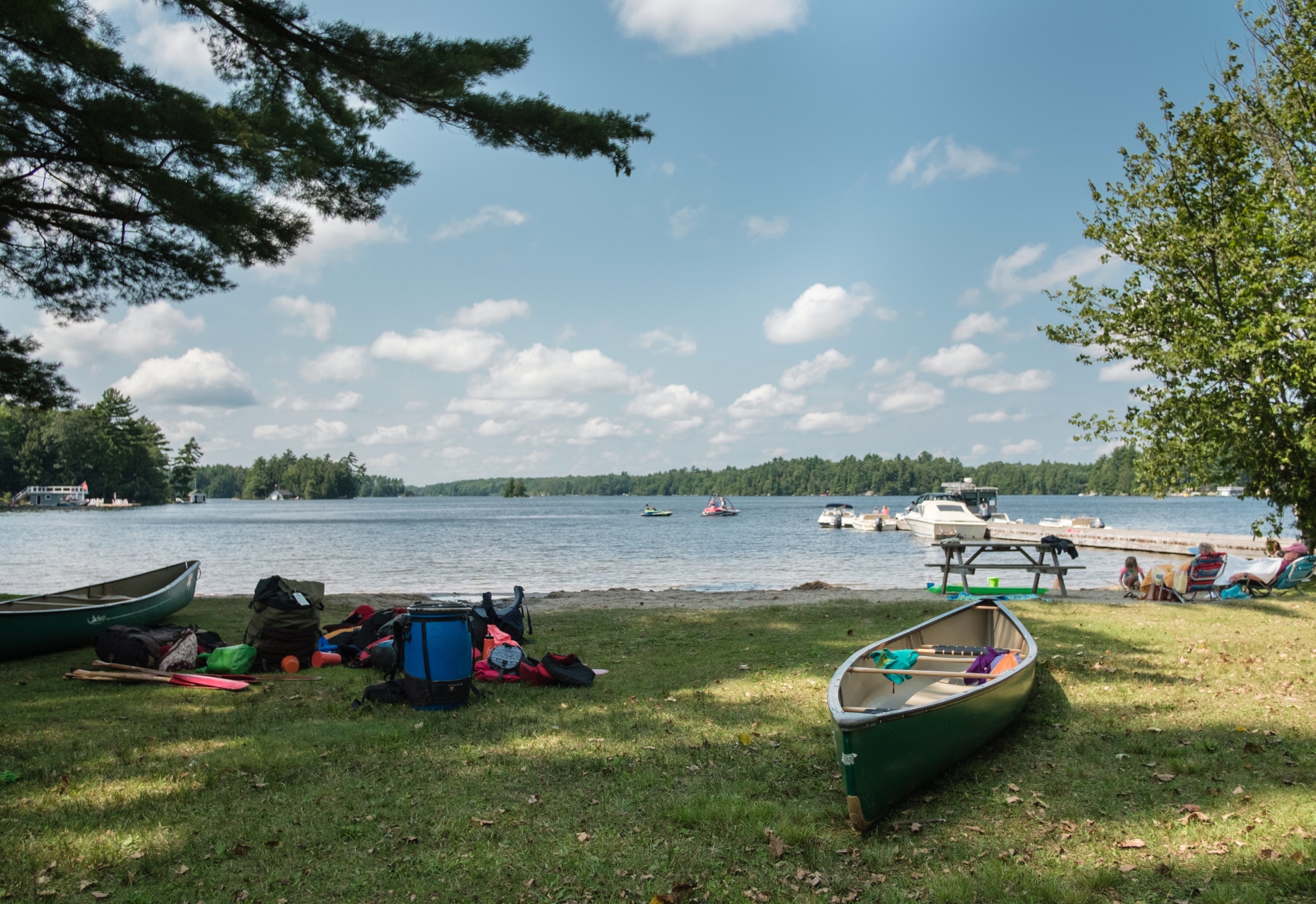 Septic Inspection Program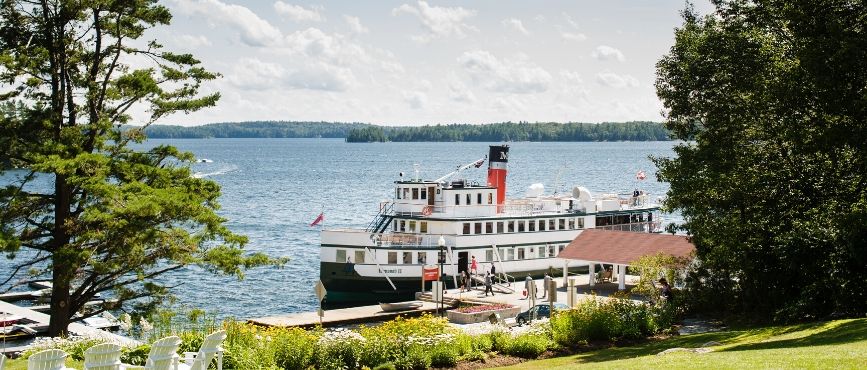 Sewage System Re-inspection Program
The Township has operated a septic re-inspection program since 2000. In 2006, the province changed the Building Code Act and the Ontario Building Code to enable Municipalities to undertake Discretionary Sewage System Maintenance Inspections.
The purpose of the Re-inspection Program is to inspect existing (Class I- Class V) on-site sewage systems, as defined by the Ontario Building Code (OBC), in order to identify maintenance concerns as defined under Section 8.9 of the OBC. On‐Site Sewage System Maintenance Inspections have been implemented by the Township of Muskoka Lakes as part of an environmental/safety initiative and in accordance with the amended Ontario Building Code (O. Reg. 315/10). The Township of Muskoka Lakes is committed to the preservation and enhancement of the water quality of our lakes and groundwater
Updates to the Program Coming Spring 2024
We have been working at categorizing over 10,000 sewage systems in the Township based on the below parameters:
Low Risk
Not on waterfront or less than 10 years of age are not on our inspection schedule at this time.
Moderate Risk
Waterfront, 10-30 years of age require a Phase I inspection conducted by Township staff. No appointment is required.
High Risk
Waterfront, +30 years of age or no permit found will require a more invasive inspection. Stay tuned for how to book your HIGH RISK system inspection. A fee will apply.
Lakes where a water quality indicator has been confirmed will be prioritized and categorized accordingly.
To learn more, please read the
Sewage System Maintenance Inspection Policy.
Inspection Areas

The Township has been divided into 5 areas. Inspection schedules are being created for the year 2024 and subsequent years. See the below map and policy for more information: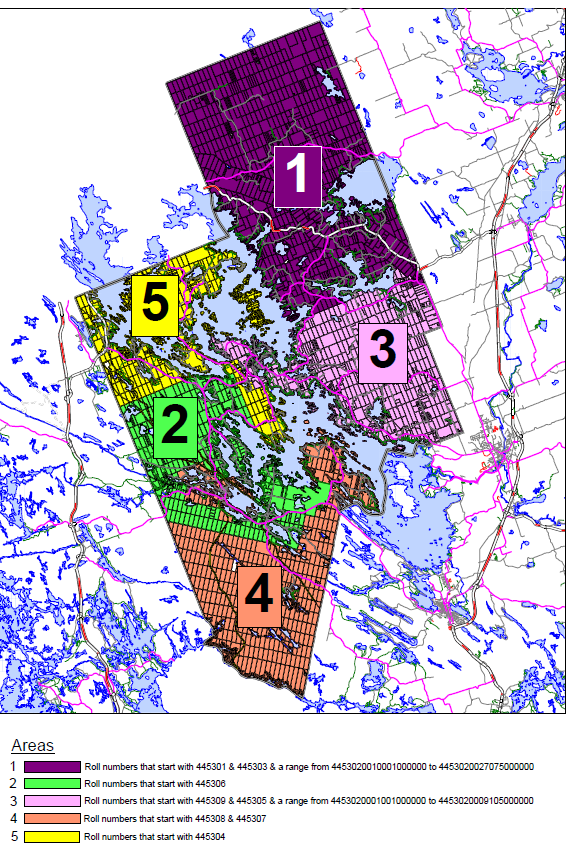 Sewage System Maintenance Tips
Dos and Don'ts of Flushing
Toilet paper and human waste only! Avoid harsh chemicals, bleaches, degreasers, septic system additives, oils, greases, solids, and pharmaceuticals.
Vegetation Around your Sewage System
A properly functioning leaching bed must have appropriate vegetative cover to allow for evaporation, transpiration, compaction prevention, and optimal treatment of wastewater.
One of the most common issues our re-inspection team comes across is inappropriate vegetation on and around the system. Deep-rooted vegetation such as trees and berry bushes can and will grow into the leaching bed pipes causing system failure. We recommend a minimum distance of 6 meters from the pipes in the bed to woody plants. For very shallow-rooted trees such as poplar, maple, willow, elm and sumac we recommend a more extreme distance of 15 metres from tree to pipe.
Appropriate shallow-rooted vegetative cover over a leaching bed includes grasses & native wildflower mixes. It is important that the vegetation planted is drought tolerant as the leaching bed area should not be irrigated as to not overload the system.
Effluent Filter Maintenance
Since 2007, a device called an 'effluent filter' has been a requirement with every new septic tank installation. The effluent filter is attached to the outlet pipe within the liquid side of the septic tank. This device is a great addition to the system as it can prolong the life of your leaching bed by filtering out solids (ie. corn kernels) and small particles (ie. fuzz from your favourite fleece sweater) before clogging pipes and soil pores.
The effluent filter requires regular maintenance – we recommend having it checked and cleaned at a minimum of once per year.
As an added bonus, the bacterial life that establishes on the surface of the filter acts as additional biological treatment of the wastewater before it makes its way into the natural environment!
Pumping Schedule
Septic Tanks are divided into a solids and liquids compartment. The first compartment of the tank is for the solids. The solids settle to the bottom of the tank forming a sludge, while greases and fats float to form a scum layer. According to the Ontario Building Code, the tank must be pumped whenever the scum and sludge occupy one third of the tank. It is important to pump the septic tank at this stage to ensure the solids do not build up and make their way into the leaching bed; this can lead to clogging of the pipes and even system failure.
It is important to note that there is such a thing as pumping the septic tank too frequently. If the tank is consistently pumped before bacteria has a chance to establish and find its equilibrium in the tank, the sewage can become sterile. Sterile sewage is essentially 'dead' and not properly treated before it makes its way into the leaching bed and environment.
It is crucial to create a customized pumping schedule with your sewage hauler that suits your usage. For example, a system that is used seasonally by two people will not need to be on the same pumping schedule as four-season usage by a family of 5. There are many licensed sewage haulers in the Muskoka Lakes area that are full of knowledge.
Signs of System Failure
There are over 100 ways an onsite sewage system can malfunction. The signs to look out for include: sewage backup into the house, sluggish drainage of plumbing fixtures, sewage surfacing in the yard, and/or sewage odours. If any of these problems occur, call a professional to troubleshoot the issue. The solutions range from the replacement of a pump, to a blocked effluent filter, to a leaching bed replacement.
According to the Ontario Onsite Wastewater Association, septic systems and can last for upwards of 20 years. As leaching beds are not made to last forever, if your sewage system is reaching 20 years of age, you should begin to save and prepare for a replacement system.
In Muskoka, many systems get a break and are only used seasonally. We also have access to quality granite-based sands and stone – note that this may prolong the life of some systems in our area.
Drainage Diversion
Directing surface water and stormwater away from your septic system is imperative for a properly functioning system. The systems depend on dry unsaturated soils to treat the wastewater within and around the leaching bed.
Quite often when a leaching bed is not fully mounded up; drainage swales, French drains, or ditches are created upslope of the bed to keep the system as dry as possible. These water diversion methods are often enforced at the time of the installation as part of the septic system construction inspection.
An issue our re-inspection team runs into are newly constructed driveways or landscape alterations which direct water towards the sewage system, instead of away from the area. Be mindful of this when planning your projects.
The above reasons are why it is also a requirement that eavestroughs be directed away from the system and why the leaching bed should never be irrigated.