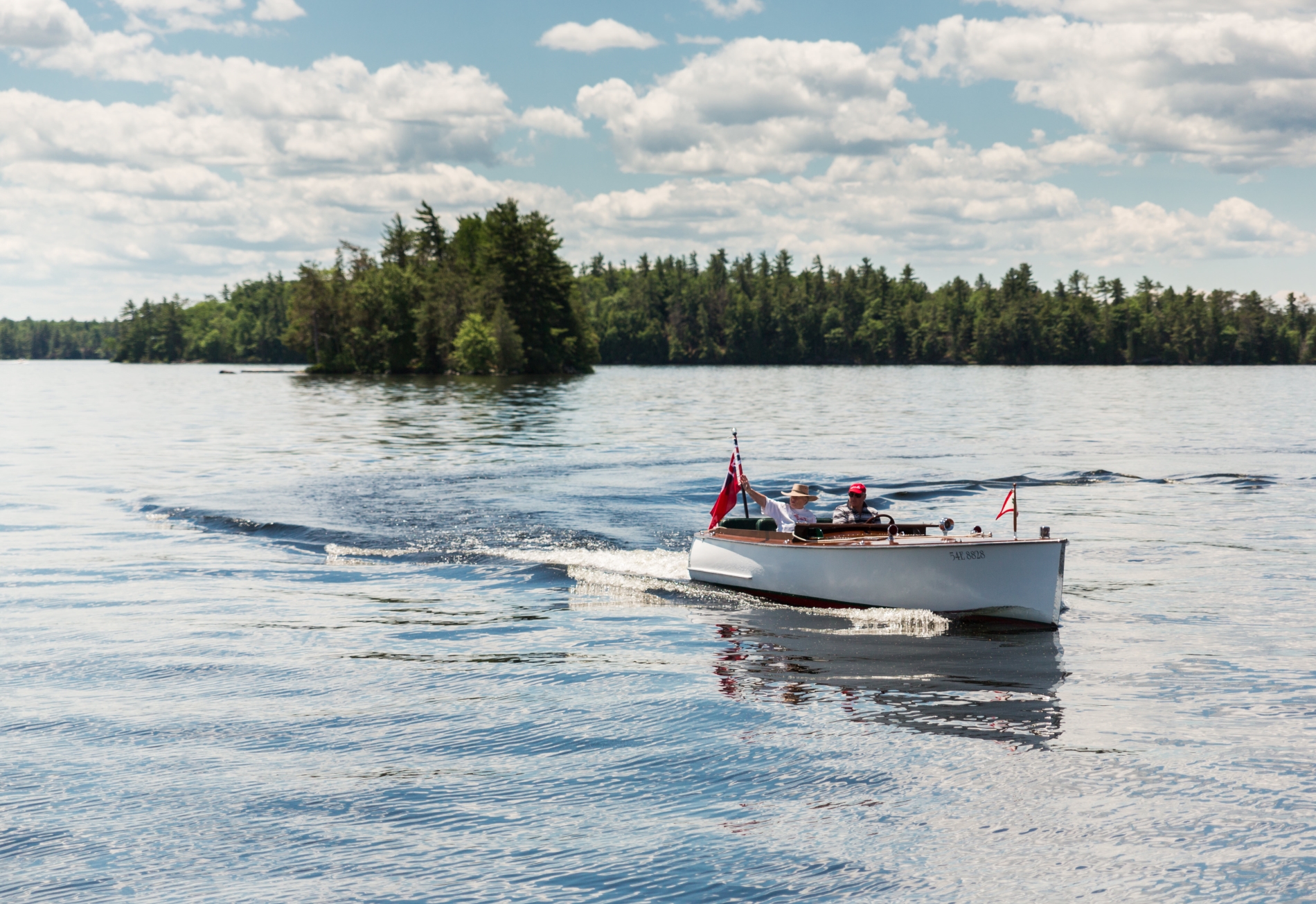 The 111-by-45-foot photo mosaic, affectionately called The Wall, provides a breathtaking welcome to Port Carling. It comprises 9,028 pictures that together create the image of the RMS Sagamo passing through the Port Carling locks circa 1922. Viewed up close, however, each individual photo captures a moment of time in the lives of residents of Port Carling during the village's first century (1860-1960).
It all began in 2004 with a suggestion from Don Oliver to the Mayor Susan Pryke, that the main street of Port Carling needed a facelift. The Mayor challenged Mr. Oliver to get involved, so he recruited Ian Turnbull, Ian Wallace and Greg Mannion to help him out.

Within one year these four men had researched, planned and designed a very complex project. Furthermore, they were able to raise all the necessary funds to implement it and set up a reserve for its continued maintenance.

In due time the Bracebridge-based company Forrec, known for their design-build capabilities, was brought into the equation. In collaboration with Toronto Digital Imaging and Magic Mosaics they produced a unique and fascinating historical mosaic known as The Wall. Its purpose was fourfold: to serve as a spectacular tourist attraction; to stimulate further revitalization of Port Carling; to foster community pride and to reflect the heritage of Muskoka Lakes Township.

Located on the large south-facing wall of the former Hanna store, a building that is now owned by Tom and Angie O'Hara, The Wall is visible from District Road 118 and to boats in the bay.

To locate, collect and digitally scan the photographs, the project had support from the Township of Muskoka Lakes and volunteers and staff from the Muskoka Lakes Museum and the Norma and Miller Alloway Muskoka Lakes Library. In total there are 905 individual photographs, which are all displayed in a nine-foot-high "viewing section" in the lower portion of the mural. Above the viewing strip the 905 photos are replicated over and over in a fashion that allows the bigger picture of the Sagamo to appear when viewed from a distance.

The mural is owned and maintained by the Township of Muskoka Lakes. It was officially unveiled on August 1 2005 by the Lieutenant Governor of Ontario James K. Bartleman, with assistance from the Mayor of the Township of Muskoka Lakes Susan Pryke and the Chair of the District of Muskoka Gord Adams. At that time it was the largest historic photo mosaic mural in the world.

This wonderful Port Carling project has achieved all four of its goals. It is an ingenious contribution to the cultural heritage of Muskoka. In 2007, The Wall received a Built Heritage award from the Muskoka Heritage Foundation.