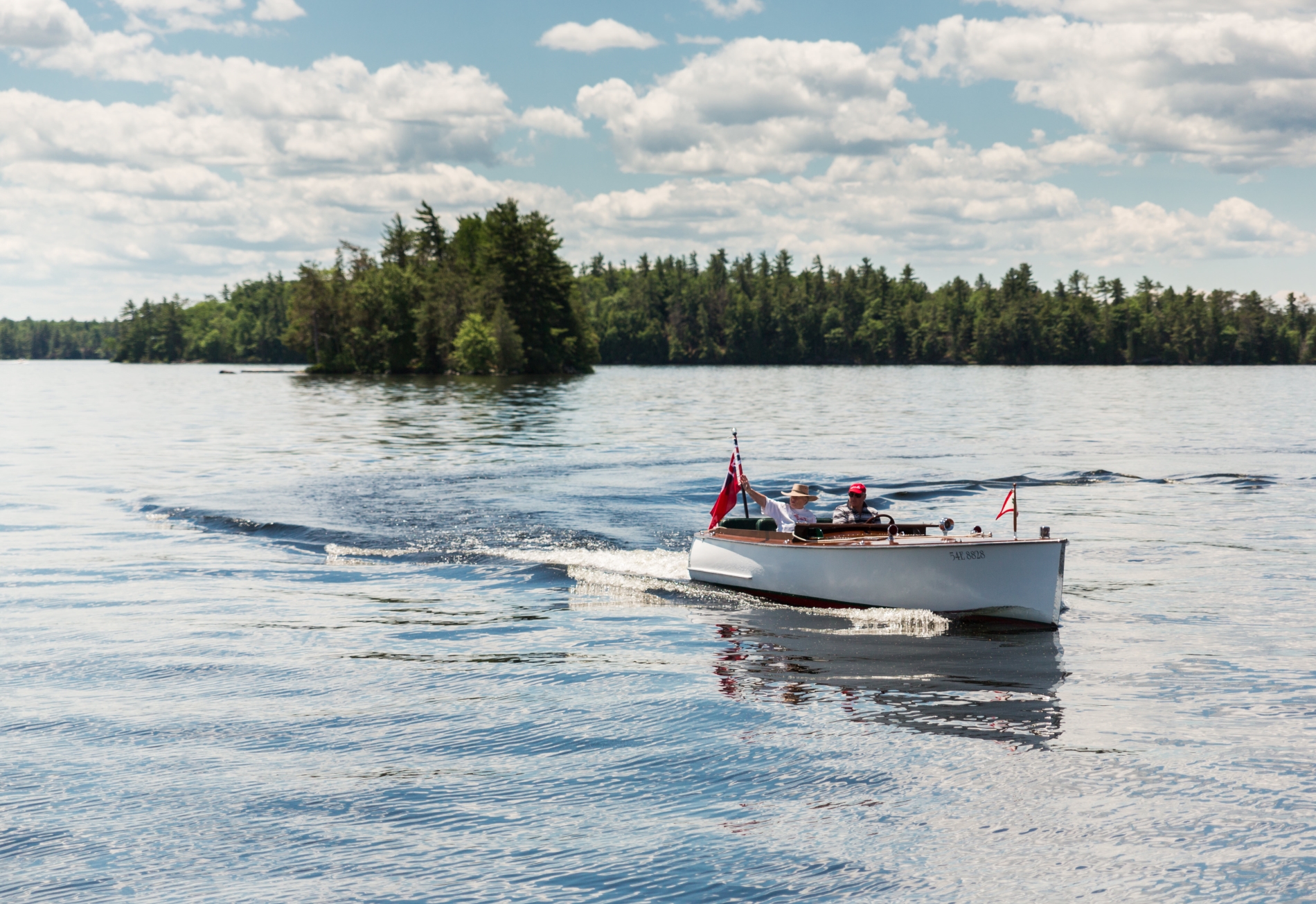 Answers to Frequently Asked Questions
How do I get a library card?
You can apply for a Muskoka Lakes Public Library membership by completing the online membership form. You will need to meet the residency requirements to get a library card for free. If you are a visitor to the area, there is an option to pay a fee for a six-month membership to the library. If you are having difficulty with the process, you may call the library for help. Visit the web page about borrowing for full details and to access the link to the online membership form.
How do I search for items in the online catalogue?
You can search for items in the catalogue by title, author, or subject. You can narrow your search to items within the library or digital resources in OverDrive. The library user manual has many tips and visuals to help you refine your search. Our YouTube channel also is a source of help. You may also find the information about the catalogue on the system supplier's website helpful.
How do I search for movies?
Using the drop down arrow to the right of the first field titled 'Everything', choose 'Library Search'. Leave the 'All Fields' as it is.
In the search box type 'dvd' or 'bluray' or 'Blu-ray'. Click 'Search'. There will be thousands of results. You can limit the amount of results in many ways.
If there is a particular movie title or a starring performer or director that you are searching for, you can add that word in the search field along with the word 'dvd' or 'bluray'.
You can filter the results in many ways using the filters found on the left side of the results page.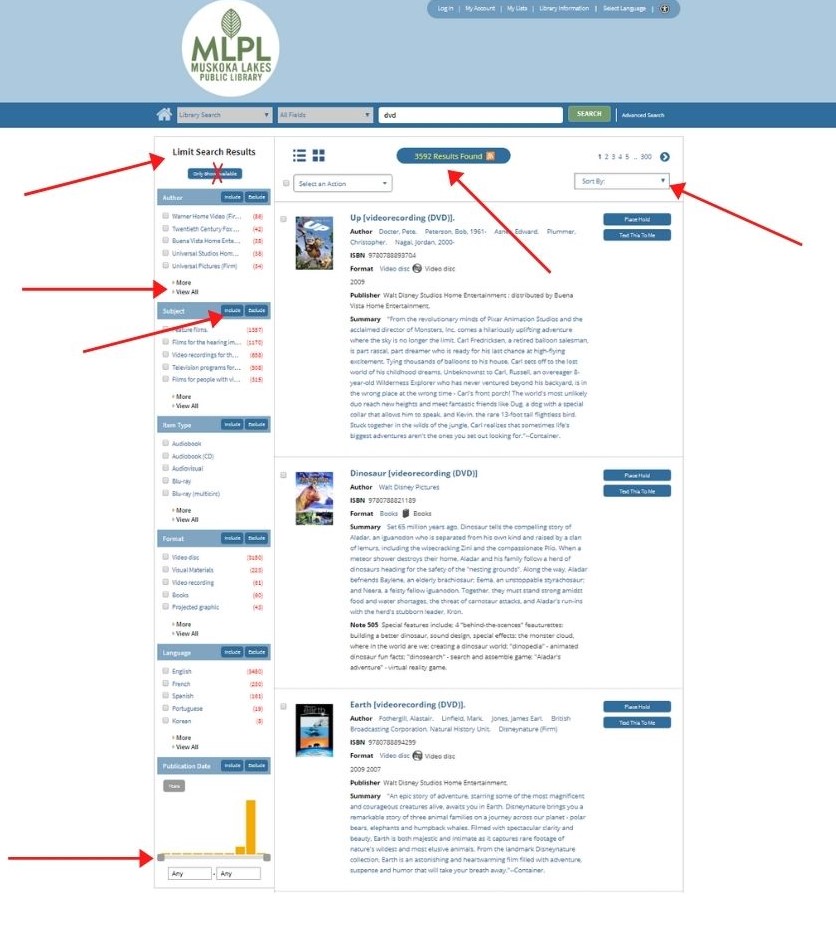 When I sort search results in the catalogue, it limits my results to 300. Why?
For performance reasons, our catalogue only sorts 300 records at a time. Sorting more than 300 can slow down the delivery of results.
In general, if you've searched using keywords (e.g. "Stephen King"), the first 300 titles displayed will be the most relevant (i.e. the ones that match your keywords the best), so if you choose a sort option, you'll get pretty much exactly what you expect to see.
However, if you've done a very broad search, like "DVD" or "Blu-Ray", in which all results are pretty much equal in relevance, choosing to sort by Publication Date (Newest First), Title, or Author will NOT give you what you expect. The items in your list will be in fairly random order, and sorting by any of these options will take the top 300 titles in your results list and sort them according to your sorting choice.
Using the filters, as described in the "How do I search for movies' FAQ can help to narrow your search results to below 300 results and then sort options will display what you'd expect to see.
Is it possible to only search for items that are checked in?
No. Not at this time. The catalogue has an option button that says 'Only show Available' but it does not work.
How do I request library material?
login to your account by clicking on the words 'Log in' or 'My account'
search for items and then click on 'Place hold'
learn tips and tricks for searching in the library user manual
you can phone the library at 705-765-5650 if you have difficulty placing holds online
Can I let someone else use my library account?
Yes you can let another person use your account, however, you remain responsible for items borrowed on your account. Your library card must be presented to check out or pick up items.
Why won't the system let me request items?
Your library membership may need to be renewed. The system is set up to block accounts at set intervals to confirm that user information is accurate.
Can I pay for fines or used books with debit or credit?
No. We accept cash only.
Can I use a library card from another library system?
No. You must have a Muskoka Lakes Public Library card to borrow items. View the membership requirements.
Where is the library located?
The Muskoka Lakes Public Library has two branches. The main branch is located at 69 Joseph Street in Port Carling. The Bala branch is located within the community centre at 1008 Maple Avenue.
Who is Norma and Miller Alloway?
The Port Carling branch was named The Norma and Miller Alloway Muskoka Lakes Library in recognition of a considerable donation given in 2001 to the Library by Graham and Kara Alloway to honour Graham's parents, Norma and Miller Alloway.
Miller Alloway began a lifelong involvement with printing and publishing while working at the Oshawa Times, owned by his father. He then went on to build a name for himself in the world of printing, publishing and graphic arts throughout North America.
Norma Alloway was an author, as well as a contributor to many newspapers and magazines. She was also a member of the antique and Classic Boat Society, the Muskoka Lakes Golf and Country Club and a board member of the Port Carling Pioneer Museum.
Both Norma and Miller dedicated much of their time and energy to numerous Christian causes. They also felt very passionately about education and learning.
"It is in recognition of my parents' Christian philanthropic heritage that we have gladly contributed to the funding of the library," said son Graham Alloway.