Posted on Tuesday, March 17, 2020 09:00 AM
Mayor Phil Harding provides an update relating to COVID-19 (Novel Coronavirus) and the closure of the Municipal Office to the public.
Effective Tuesday, March 17, 2020 at 12:00 p.m., the Township will close the Municipal Office to the public until April 6, 2020. Township services will continue to be offered online through the Township website, email and over the phone where possible.
Visit our website for all updates on changes to Township services, programs and/or facilities:
Posted on Friday, March 13, 2020 07:16 PM
MUSKOKA LAKES – The Township is working closely with the Simcoe Muskoka District Health Unit and other community partners to monitor the global situation and respond accordingly. Effective immediately and out of an abundance of caution, the Township is making changes to services and programming.
Please be advised of the following changes:
Muskoka Lakes Public Library: All library programs have be cancelled. The Bala and Port Carling Libraries will remain open under regular hours of operation.
Public...
Posted on Friday, March 13, 2020 03:29 PM
DISTRICT OF MUSKOKA - The District and Area Municipalities are dedicated to protecting and supporting individuals, and recognizes the important role that everyone has in keeping our communities safe and healthy.
"The District and Area Municipalities are meeting frequently and working closely with community and health partners to coordinate efforts and plan together to support the community needs should more resources be required," said Michael Duben, Chief Administrative Officer, District...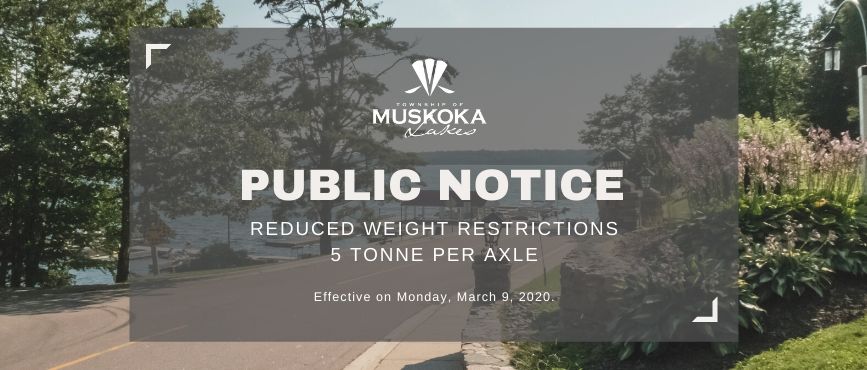 Posted on Monday, March 09, 2020 01:18 PM
Every year during the period of March 1st to approximately May 31st, all roads under the jurisdiction of the Township of Muskoka Lakes are subject to reduced loads.
Effective Monday, March 9, 2020 there is a limit of 5 tonnes per axle. Load restrictions shall remain in effect until Sunday, May 31, 2020 or a date determined by staff when the restriction can be safely removed.
If you have any questions, please contact the Public Works Department at (705) 765-3156.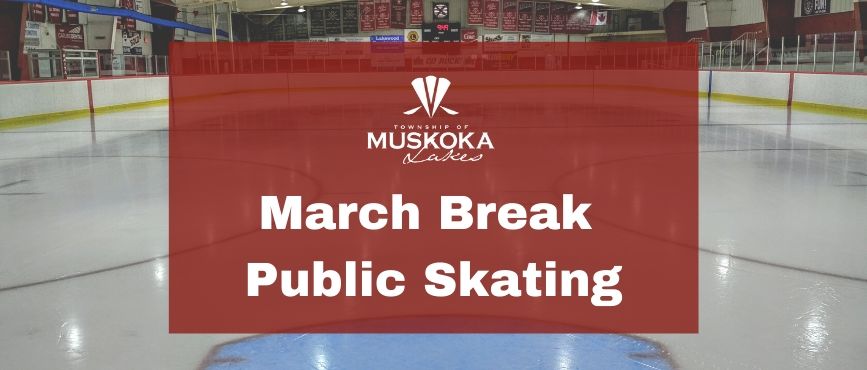 Posted on Monday, March 09, 2020 10:07 AM
The Township of Muskoka Lakes will be offering FREE public skating during the March Break at the Bala and Port Carling Arenas.
Bala Sports Centre
1009 Maple Ave.
Bala, ON P0C 1A0
Contact: 705-762-5390
March Break Skating Schedule in Bala
Day TimeRate Saturday, March 14, 2020 1:00 p.m. to 2:20 p.m. Free Sunday, March 15, 2020 1:00...